If you're a nature lover, you should consider owning a home in
Sharon, MA
. This beautiful suburb of Boston has over 5,000 acres of protected land, allowing you to wake up every morning and see nature's beauty at your doorstep. The vast amount of wildlife that surrounds and is inside the town allows for endless recreational activities. If you're not an outdoors person — that's okay! There are still great options for all interests in Sharon, Massachusetts.
Enjoy the water
Lake Massapoag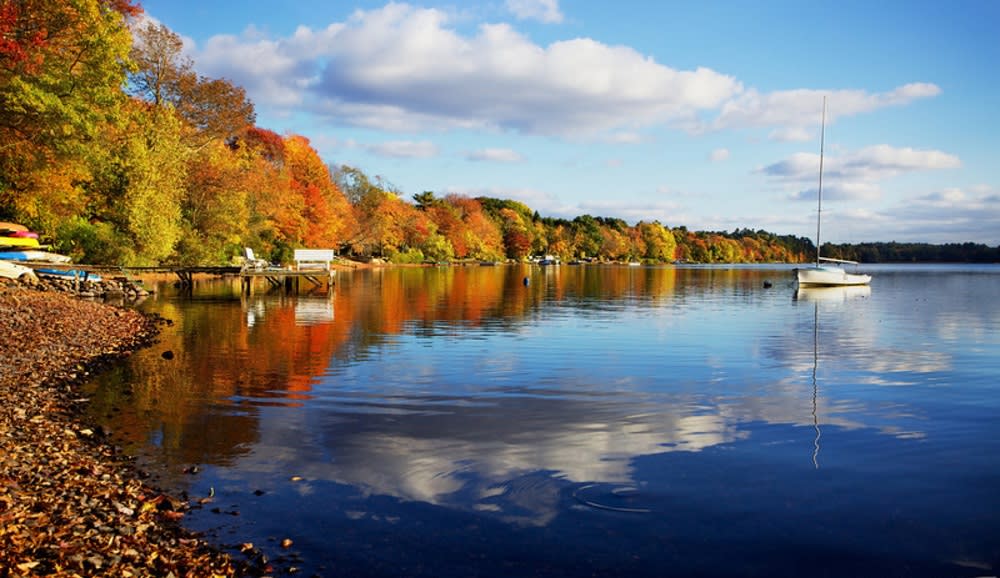 Lake Massapoag is the center and heart of Sharon. This lake is natural and quite large, measuring 353 acres. It's the headwater of the Massapoag Brook, which eventually empties into the Neponset River. The calm oasis is a highlight in the summer and early fall, where visitors can swim, boat, windsurf, and fish to relax on a hot day. If you want to try out a potential hobby and don't have the equipment, you may be able to rent it — check on the
lake's official site
and review what can and cannot be rented. Lake Massapoag also serves as a venue for outdoor concerts. Grab your sunscreen on and get out of the house. The lake is waiting for you!
Fun fact:
Massapoag
is an Algonquin word that means "
large water
."

Beaches
There are a few beaches in Sharon that allow similar activities. However, some Sharon homes for sale will provide access to residential beaches in this area. This ensures less crowding even on the hottest summer days. If that is something highly desirable to you, keep that in mind while searching for your new home.
Put on your hiking boots
Residents and visitors can see the town's protected land with their own eyes. Hiking is accessible for most of the year if the weather permits. Hiking with friends and family is an easy way to socialize and get quality exercise at once. Sharon luxury real estate is fortunate to have many different hiking trails throughout its lush, green neighborhoods. Don't be intimidated if you're new to hiking, either! Some trails are beginner-friendly and take less than a couple of hours to complete. Being an experienced hiker is not necessary to enjoy the breathtaking views.

Pack a bag of snacks, bring along some water, and set off to see all the treasures the trails hold!
Visit the Moose Hill Wildlife Sanctuary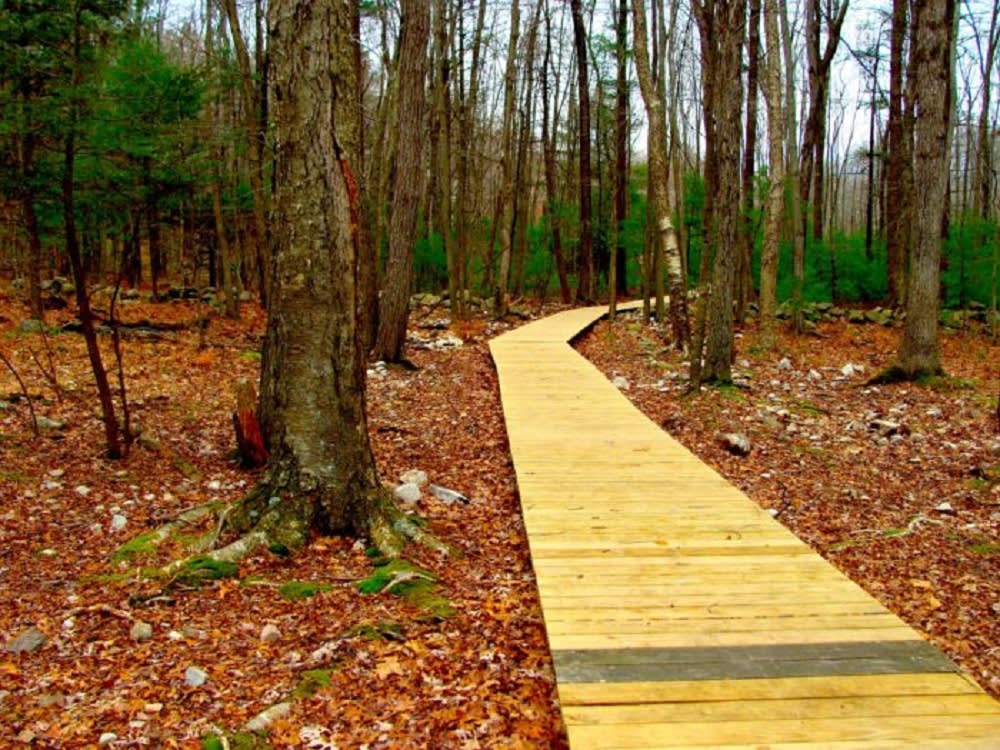 This reserve
has so much to offer the residents of Sharon. It has some of the hiking trails mentioned above; it is also a wildlife sanctuary established in 1916. The protected wetlands and forests provide a safe space for people to explore nature. It is also a safe space for the animals, plants, and even insects that live there. Moose Hill Wildlife Sanctuary provides a home for countless creatures that could be otherwise disrupted by deforestation.
Moose Hill Wildlife Sanctuary has a summer camp alongside year-round nature programs for children. Young adventurers can solve quests with clues or participate in Vacation Week programs. You don't have to be a kid to learn at the reserve. Adults can sign up for many different programs held at the sanctuary. Experts will often lead the activity and provide in-depth knowledge of their field. There are even online classes available through Moose Hill Wildlife Sanctuary to help you get started from the comfort of your home.
If you ever wanted to get into
birding
, this is the place.
Check out the community center
The community center is a spacious and impressive building. It was originally a lovely resort hotel, and now it serves the local community. Residents can choose to sign up for various activities, like yoga, sports, theater, and dance! The center has programs available for all ages and interests. Don't miss out on a new hobby or making a new friend.

Visiting the center will allow you to get to know your neighbors and possibly make a new friend or two, all while doing something you enjoy! When looking at Sharon homes for sale, remember that you'll be joining a friendly community. You'll be able to meet new people that have at least one similar interest, which is an excellent start to building new relationships. The center also has special events for the community, such as Square Jam and the Fourth of July. These events are great for families and friends to celebrate together.
Visit Ward's Berry Farm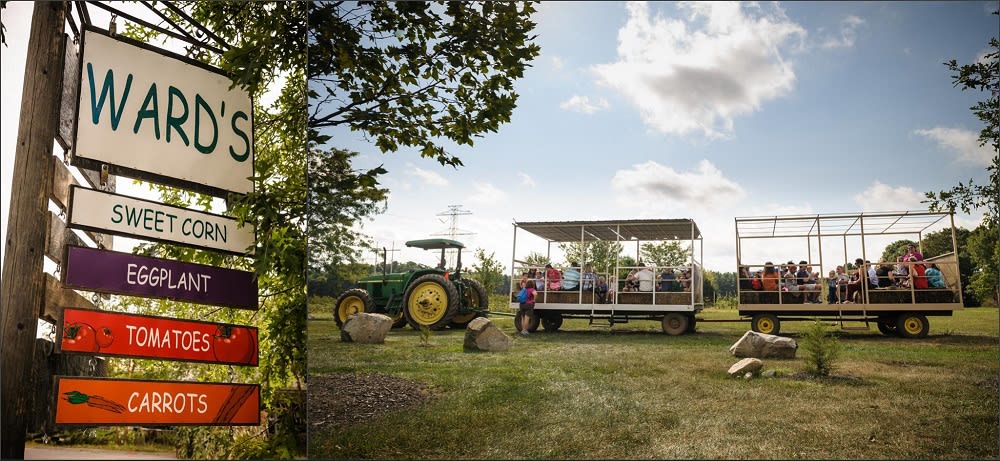 Photo courtesy of Fotique
Ward's Berry Farm
is a place you can visit again and again. Eating locally-sourced food is very popular in Sharon, Massachusetts. Depending on the season, you may go to the farm and pick your own berries, pumpkins, and other crops. Picking fresh flowers or gathering your own carrots is a great way to spend the day outdoors. Luckily, it's not far at all from Sharon luxury real estate.
If you're less into getting down in the dirt but still appreciate locally grown food, you can go to the Farm Store. The store has an impressive array of fresh produce, bread, jams, cheeses, and baked goods. If you want more than groceries, you can stop by the sandwich counter for a meal. Just don't forget to swing by the smoothie bar on your way out!
Ward's Berry Farm also has an incredible weekly box program that supplies fresh and local crops. The crops are harvested the day of pick-up (or the afternoon before), ensuring fresh selections each week. This is perfect for home chefs who want to reduce their carbon footprint and eat healthy fruits and vegetables.
Do you want to be near all these fun activities? If so, now is the perfect time to start looking for Sharon homes for sale. Reach out to an experienced local team of agents at
Mayer Realty Group
for assistance finding your suburban dream home.