Reap the benefits of convenient access to Boston's incredible cultural, dining, and business scenes while enjoying the delights of small-town charm. Having been repeatedly featured on CNN Money's annual compilation of best places to live in the U.S., Sharon, MA, offers an exceptional residential experience.
Recently, Sharon homes for sale had a
median list price
of $1,799,000 – a significant jump from last year's $579,900. The area is experiencing an aggressive seller's market, which means there are substantially more buyers than there are available Sharon houses for sale. Sellers can experience multiple offers, bidding wars, and even "overbids" – a phenomenon where competitive buyers could offer tens or even hundreds of thousands of dollars over a seller's asking price to secure a deal.
Sharon homes for sale are surrounded by lush conservation land woven with scenic trails. Residents enjoy going outside for fresh air and immerse themselves in wildlife along the Warner Trail, the Bay Circuit Trail, and King Philip's Rock Trail, to name a few. Here are more places of interest for couples and families new to the area.
Old-fashioned family fun
When you buy a piece of Sharon luxury real estate, you'll know the whole family will have plenty to enjoy in the area. Get everyone out in nature and pick your own – "PYO" – fruit at
Ward's Berry Farm
. It's a family-owned roadside market and farm where visitors can harvest blueberries, peaches, strawberries, and more, depending on the time of year. Kids can enjoy interacting with farm animals or romping around designated play areas while the family has a picnic al fresco.
If your kids under the age of ten need to run around and blow off that unending kid energy, take them to the Ames Street playground, which is cordoned off in sections for children from the age of toddlerhood up to age ten. The playground's baseball fields double as areas to play frisbee, use remote control planes and cars, and as green spaces where kids do what they do best: be kids.
Indulge in the great outdoors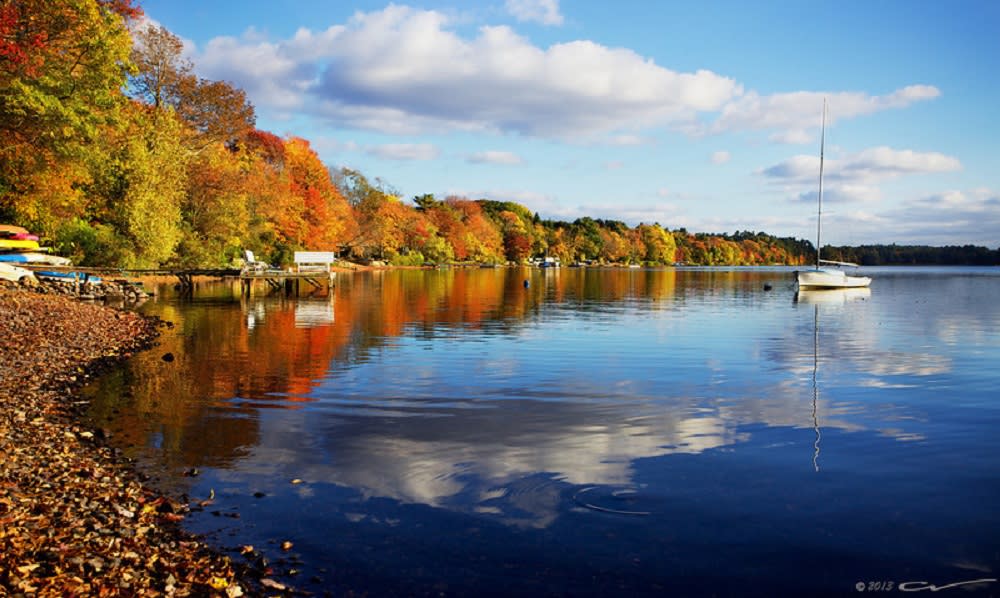 Lake Massapoag is a spring-fed lake covering over three hundred acres and is perfect for swimmers, kayakers, boaters, and sailing enthusiasts. During the summer – from Memorial Day through Labor Day – active locals can enjoy the presence of skilled lifeguards, a handy snack shop, and men's and women's facilities.
Memorial Park Beach is only for residents, but the Community Center Beach is available for visitors. Either beach is perfect for swimmers, while Memorial Park features a boat ramp for launching sailboats, kayaks, and motorboats of 60-horsepower or less. The lake's sandy, shaded beaches are ideal for relaxing or picnicking, and revelers celebrating the nation's birthday can enjoy a dazzling fireworks display on July 3rd. Kids can participate in the annual Bicycle and Carriage Parade before the evening's fireworks display and see who wins the decorating contest. Additionally, every Wednesday night during the summer, music lovers can sit by the lake and sing and dance to the live lakeside summer concert series.
A hiker's and nature lover's mecca
If you're drawn to hiking, biking, horseback riding, or cross-country skiing instead of swimming, there are several venues to visit and fulfill your outdoor recreation needs amongst Sharon houses for sale. You can go for a hike at
Moose Hill Wildlife Sanctuary
, which, at 2,200 acres, is home to over 163 species of birds and more than twenty-five miles of trails for nature and outdoors enthusiasts.
Borderland State Park was created in the early 1900s by Blanche Ames – an artist and suffragist – and her husband Oakes – a botanist. The Commonwealth of Massachusetts purchased the Ames' property in 1971 and converted it to the state park which stands today. Visitors can take a guided tour of the original three-story stone mansion before venturing out into the wilderness.


Borderland offers twenty miles of hiking trails which also serve skiers and snowshoers in the wintertime. The park has a three-mile-long trail that loops around six ponds to run or walk along. Additional paths labeled on the trail maps offer moderate to difficult experiences.
Two spots for history lovers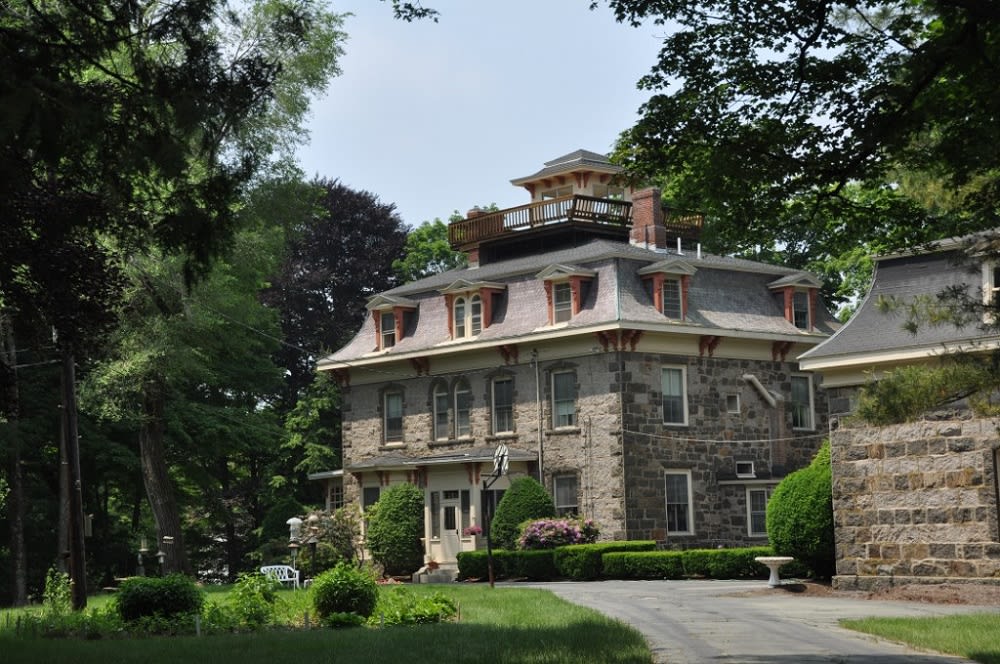 While you're in the area looking at Sharon luxury real estate, make sure you take a break to go back in time. Stoneholm is a historic Victorian-style house built in 1848 and showcases design details made of granite from the nearby Moyles Quarry.
The two-and-a-half-story home features a mansard roof with flared eaves, a rooftop deck, and a cupola. The building's main facade has three bays. Its entryway is in the central bay and is sheltered by a wraparound porch that was popular at the time, and on the next level are two classic rounded arch windows.


Elsewhere, Cobb's Tavern is a historic, two-and-a-half-story colonial wood-frame tavern built in 1740. With its brick-end walls and three chimneys, this charming piece of history is a lovely part of the neighborhood. The house served as a tavern for most of the 19th century and housed the local post office from 1817 to 1895. The tavern is now a private home, and both buildings are listed on the National Register of Historic Places.
Indulge in award-winning frozen treats
Now in its 90th year of operation, the
Crescent Ridge Dairy
is a family-owned and operated establishment that serves more than just ice cream to new owners of Sharon houses for sale. As if you were living in 1932, the Crescent Ridge Milkmen still make their rounds every week to deliver milk, beef, meats, and produce. Its ice cream has been named as one of National Geographic's
The 10 Best of Everything: An Ultimate Guide for Travelers
, and visitors can delight in a selection of nearly forty ice cream flavors, a handful of refreshing sherbets, non-dairy sorbets, luscious frozen yogurts, and other flavorful no-sugar-added choices. Ice cream flavors include Butter Pecan, Extreme Chocolate, Ginger, Mint Chocolate, Rum Raisin, and S'Mores.
Looking for Sharon homes for sale?
If you want to learn more about the town or about Sharon luxury real estate, contact
Mayer Realty Group
for expert guidance.