Selling a home can be a significant decision, and timing plays a crucial role in ensuring a successful and profitable sale. While the real estate market can fluctuate throughout the year, data from ATTOM reveals that May and June are the best months to sell a home.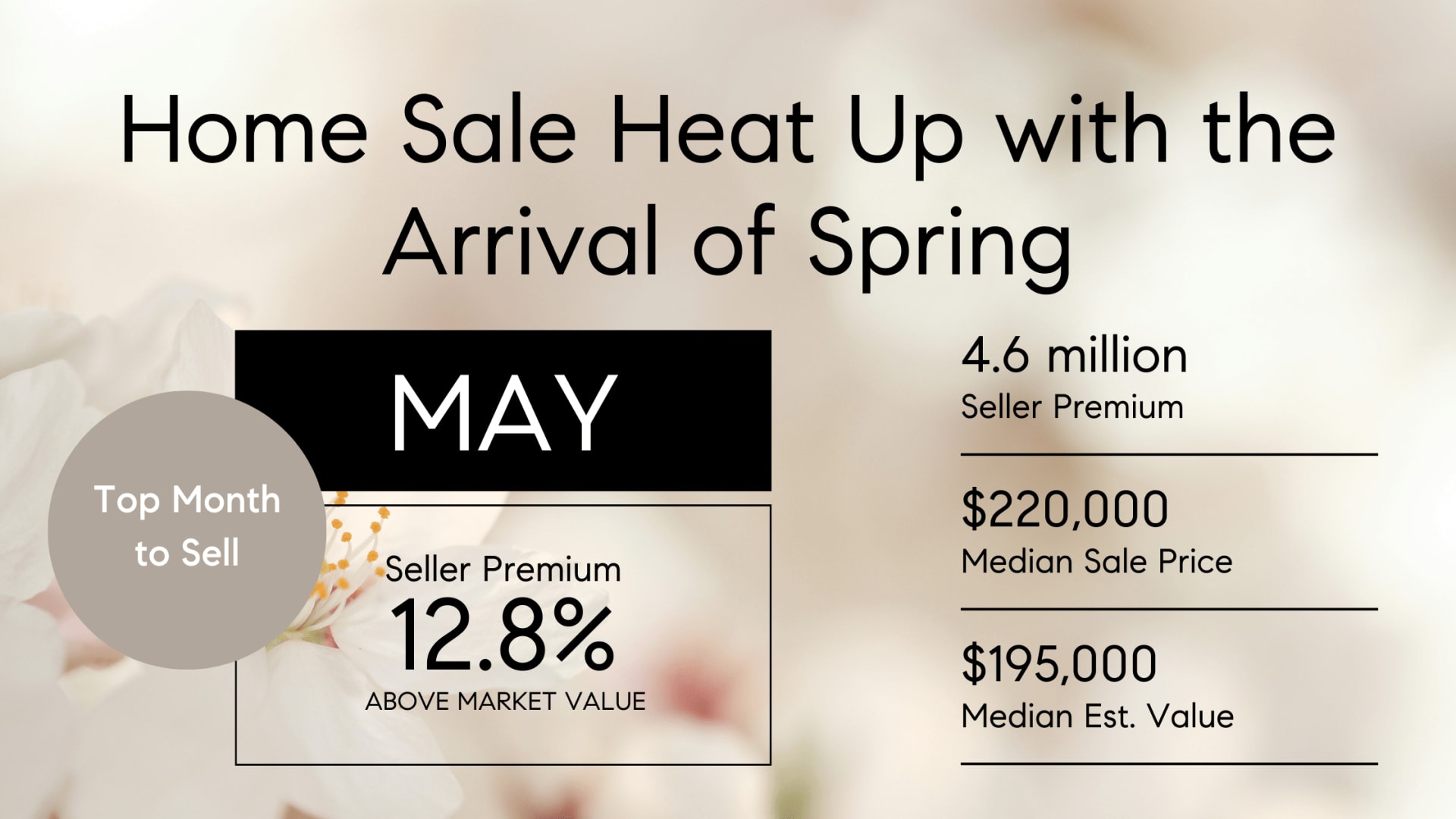 Why these months are ideal for selling your home
Increased Demand and Competitive Bidding: May and June mark the beginning of the peak home buying season in many markets. Buyers are actively searching for homes, often driven by factors such as families wanting to settle before the start of a new school year. This surge in demand leads to increased competition among buyers, which can drive up home prices. ATTOM data consistently shows that the number of competitive bidding situations is higher during these months, giving sellers an advantage in negotiating favorable terms.

Favorable Weather Conditions: Spring brings warmer weather and longer daylight hours, creating an appealing environment for homebuyers. The blossoming flowers, lush greenery, and abundant natural light can significantly enhance a home's curb appeal. With pleasant weather, potential buyers are more inclined to visit open houses and explore neighborhoods. By capitalizing on the aesthetic appeal of your property during May and June, you can maximize your chances of attracting interested buyers.

Faster Sales and Higher Sale Prices: ATTOM's data analysis consistently reveals that homes sold in May and June tend to sell faster and at higher prices compared to other months. The combination of increased demand and a competitive market works in favor of sellers. As buyers actively search for properties, well-priced homes can receive multiple offers, often leading to bidding wars. This situation allows sellers to choose the most favorable offer or even receive offers above the listing price, leading to a quicker and more profitable sale.

Prime Time for Relocations: The months of May and June coincide with the end of the school year for many families. This period is ideal for relocations, as parents prefer to move during the summer break to minimize disruptions to their children's education. Consequently, many corporate relocations and job transfers occur during this time, expanding the pool of potential buyers. By listing your home during this period, you can tap into this motivated buyer segment, increasing the chances of a successful sale.

Efficient Home Preparation: Preparing a home for sale can be a time-consuming process. However, with the longer days and favorable weather conditions in May and June, homeowners have ample time to showcase their property in its best light. From enhancing curb appeal through landscaping and gardening to conducting necessary repairs and staging the interior, sellers can take advantage of the more extended daylight hours to ensure their home looks its absolute best. The availability of natural light can also make photography and virtual tours more appealing, capturing the attention of online home shoppers.


Backed by ATTOM's comprehensive data analysis.


Conclusion
Timing is everything when it comes to selling your home, and the ATTOM data underscores that May and June are the best months to list your property for sale. With increased buyer demand, competitive bidding, faster sales, and higher sale prices, it's clear that these months offer significant advantages to sellers. Moreover, the favorable weather conditions and the influx of potential buyers during this period create the perfect environment for showcasing your home. By leveraging the insights provided by ATTOM's data analysis, homeowners can make informed decisions and maximize their chances of a successful home sale. So, if you're considering selling your home, seize the opportunity and make the most of the advantageous May and June market.