Navigating 2023's Home Prices: Here's What the Pros Say
Hey there! Thinking about making a move soon? I bet you've come across some chatter hinting at a potential dip in home prices this year. If that's been playing on your mind, let's unpack the real facts.
First off, the idea that prices might plummet? It's not playing out like some predicted. Why? The heart of the matter lies in supply and demand. We've got heaps of eager buyers and not enough homes on the block. This imbalance is acting as a cushion, keeping our prices from taking a dive.
Now, I wouldn't just make claims without showing you the bigger picture. So, let's dive into what the industry experts are forecasting for 2023:
A Positive Trend Across the Board for 2023 Across the spectrum, most industry mavens are pretty optimistic about where home prices are heading this year. Check out the graph below. You'll see predictions from six renowned organizations on how 2023 might wrap up: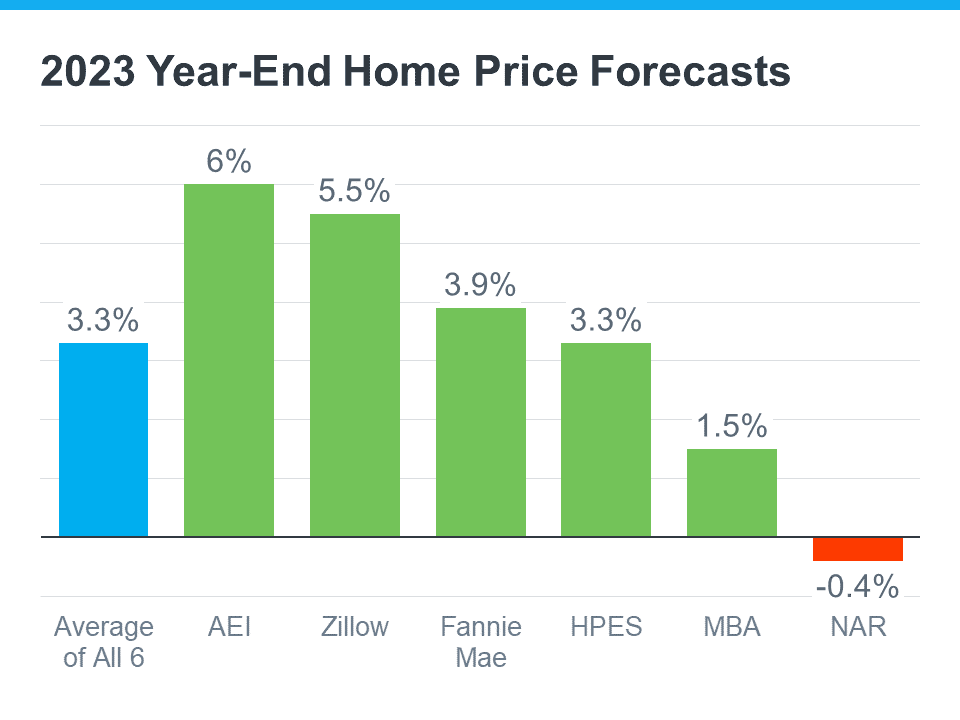 Spot that sea of green? Nearly everyone's on the same page, predicting a favorable rise in home prices. And if that lone red bar has caught your eye, remember this: the National Association of Realtors (NAR) is predicting only a slight wobble. It's far from the dramatic tumble many were buzzing about. Average out these six forecasts, and we're looking at a tidy 3.3% growth by year's end.
Adding More Weight: The Home Price Expectation Survey Need a bit more to go on? Let's chat about the Home Price Expectation Survey from Pulsenomics. They've tapped into the insights of over 100 experts – from savvy economists to housing market whizzes. Their collective take? A 3.3% price climb for the year, mirroring our average from earlier.
Let's Wrap It Up If sleepless nights over plummeting home prices have been your thing, take a breath and find solace in the data. The forecasts suggest a solid upward trend. Got questions about our local scene? Give me a shout. I'm here to guide you through the ever-evolving real estate maze.